Menu
Since 1 January 1999 the territorial range of the Statistical Office in Szczecin has been covering Zachodniopomorskie Voivodship.
Pursuant to the conferred statute (Official Journal of the Central Statistical Office of 2010 No 1, item 2), its tasks include:
coordination of all works related to the implementation of the surveys programme, namely collecting information, preparing voivodship datasets and processing them, conducting information and publishing activities as well as conducting countrywide tasks for official statistics as a whole,
conducting basic tasks related to collecting and processing data, serving clients, national economy entities, government and self-government administration units.
These tasks are performed by departments of the Office pursuant to their scope of competence stipulated in the Regulations of the Office.
Branches in Koszalin and Stargard conduct countrywide tasks for official statistics as a whole, all basic tasks, including serving clients and entities as well as current reporting according to determined organisation of a survey in the voivodship, about which entities are informed each time, i.a., by indicating a place where reports should be submitted.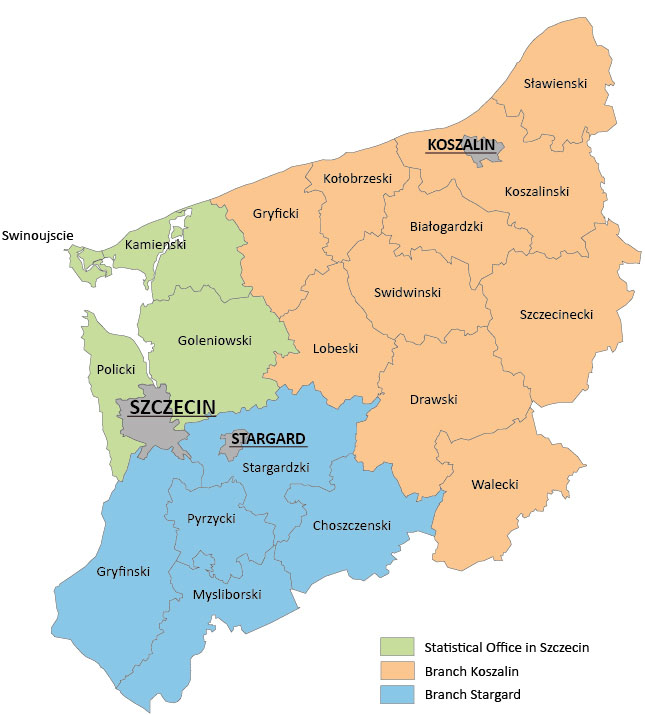 Territorial range of branches of the Statistical Office in Szczecin:
Branch

Territorial range

Counties

urban communes

urban and rural communes

rural communes

bialogardzki, drawski, gryficki, kolobrzeski, koszalinski, lobeski, slawienski, szczecinecki, swidwinski, walecki, grodzki-Koszalin.

Bialogard, Darlowo, Kolobrzeg, Koszalin, Slawno, Szczecinek, Swidwin, Walcz.

Barwice, Bialy Bor, Bobolice, Borne Sulinowo, Czaplinek, Czlopa, Drawsko Pomorskie, Gryfice, Lobez, Kalisz Pomorski, Karlino, Miroslawiec, Ploty, Polanów, Polczyn-Zdroj, Resko, Sianow, Trzebiatow, Tuczno, Wegorzyno, Zlocieniec.

Bialogard, Bedzino, Brojce, Brzezno, Biesiekierz, Darlowo, Dygowo, Goscino, Grzmiaca, Karnice, Kolobrzeg, Malechowo, Manowo, Mielno, Ostrowice, Postomino, Radowo Male, Rabino, Rewal, Ryman, Siemysl, Slawno, Slawoborze, Szczecinek, Swidwin, Swieszyno, Tychowo, Ustronie Morskie, Walcz, Wierzchowo.

choszczenski, gryfinski, mysliborski, pyrzycki, stargardzki.

Stargard

Barlinek, Cedynia, Chociwel, Chojna, Choszczno, Debno, Dobrzany, Drawno, Gryfino, Insko, Lipiany, Mieszkowice, Moryn, Mysliborz, Pelczyce, Pyrzyce, Recz, Suchan, Trzcinsko-Zdroj.

Banie, Bielice, Bierzwnik, Boleszkowice, Dolice, Kobylanka, Kozielice, Krzecin, Marianowo, Nowogrodek Pomorski, Przelewice, Stara Dabrowa, Stare Czarnowo, Stargard, Warnice, Widuchowa.

kamienski, policki, goleniowski,
grodzki- Szczecin, grodzki-Swinoujscie.

Szczecin, Swinoujscie.

Dobra, Dziwnów, Golczewo, Goleniow, Kamien Pomorski, Maszewo, Miedzyzdroje, Nowe Warpno, Nowogard, Police, Stepnica, Wolin.

Dobra Szczecinska, Kolbaskowo, Przybiernow, Osina, Swierzno.